Join and learn how to interpretate IVC debris testing results!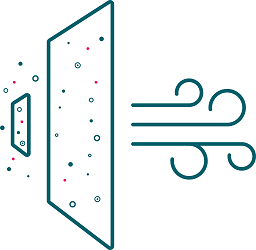 The introduction of environmental debris testing in individually ventilated caging (IVC) systems over the past couple of years, has enabled facility managers to monitor the health of all cages easily, cost effectively and without sacrificing animals. But introduction of new approaches also means new approaches to interpretation when positive results come back from the lab. Traditionally, samples for health monitoring have been obtained directly from the animals, but the switch to sampling the environment (the exhaust air) combined with the application of molecular diagnostics opens up for positive samples in the absence of an active infection in the colony. Via our webinar "Result-interpretation of IVC debris testing" we  would like to show you how we do this.
Program
The webinar will be held on May 24th from 14.30 – 15.30 CET. Ronald de Boer and Martin Toft will share their thoughts and experience with you on how IVC debris testing works and how you can best interpretate the results of the tests. Case studies will be used as bases for this webinar. Of course, they will conclude with a Q&A session.

Presenters background
Ronald de Boer, MASc, working for more than 12 years at QM Diagnostics in which he worked at all different laboratory departments and is familiar with the most used laboratory techniques. Graduated from the HAN University of Applied Sciences in Nijmegen with specialty in Molecular Life Sciences and currently part of the scientific team as a scientist. Ronald is specialized in test development, test applications and zebrafish health monitoring.
Martin Toft, DVM, is the latest addition to the scientific team at QM Diagnostics as Senior Scientist. Graduated from The Royal Agricultural and Veterinary University in Denmark with specialty in laboratory animal science and medicine, he has worked for the past 15 years with all aspects of laboratory animal quality assurance and have extensive experience in designing and managing programs for monitoring rodent health and genetics from smaller vivaria to large-scale breeding facilities.
Registration
Join this exclusive webinar from QM Diagnostics to learn how to interpret positive results from IVC debris testing, how routine vivarium practices affects the incidence of "false" positives and get inspiration on designing an efficient follow-up testing program to confirm or reject the initial positive result. Registration is simple, just use this link and follow the instructions.
Both Ronald and Martin are looking forward to having you in this webinar.
We promise you, contagious it will be!